Estimated reading time: 3 minutes
It's common for marketing teams to come across tracking and CRM challenges when calculating the ROI for their brand or service. Some common challenges include having a long sales cycle or the inability to track formally. At PortMA, we strongly advocate for taking a step back and looking at who is being engaged and deploying tools to project the marketing's impact accurately.
From there, the team can begin to implement appropriate sales tracking solutions.
Qualifications for Tracking Sales
On the surface, several qualifications need to be in place before a sale is even possible. Firstly, the brand team must connect with the people who decide when to buy the product or service. In addition, this decision-maker must directly engage in the offerings. This is especially important if there is a volume metric that requires the engagement to be worthwhile.
Sales Tracking Steps
There are three areas to consider when implementing sales tracking solutions for brands and services. These come from 1) the rate of qualified visitors. 2) the position in the purchase cycle, and 3) the impact/ or understanding of how ROI varies.
Rate of Qualified Visitors
If we know how often the brand or service engages someone who hit all of the qualifications listed above, then we'd know the size of the opportunity. Further, an analyst would evaluate how the qualified visitors are over or underperforming versus the others. When considered in the context of where a mobile tour should visit (e.g., type of venue, market, etc.), this alone is a solid routing tool.
Position in the Purchase Cycle
It's important to position this qualified person in the purchase cycle. Is he or she a current customer? If so, we know they are walking the footprint because they're already fans and do not necessarily represent an opportunity for incremental revenue. Alternatively, is the qualified person in the early stage of the cycle and never even heard of the service or brand?
Impact/Understanding how ROI varies
After considering a customer's potential position in the purchase cycle, we need to understand if we're generating advocacy and purchase consideration for the product or service. This ranges on a spectrum from weak to strong future consideration. Regardless, we need to understand if we're inching the prospective customer along through the purchase cycle. Once here, we can begin to understand ROI and how it could vary.
Sales Tracking Analysis
The core metrics and solutions to complete a sales tracking analysis come from a short survey of those who walk the activation footprint. PortMA recommends monitoring these metrics continually and then analyzing monthly and dissecting quarterly.
This is typically done through a one-minute intercept survey with every Nth visitor being asked 5 to 10 questions. The goal of targeting 10 – 12 interviews per day/location will allow you to monitor your reach, impact, and ROI projections. From there, you can segment the ROI by variables like location, assets onsite, and the type of business visits to understand what is driving performance.
At PortMA, we do this work through onsite intercept surveys or as a follow-up email invitation to a web survey. Sometimes we implement both practices. Having this sales tracking analysis in place will help you understand what aspects of your program contribute the most to sales.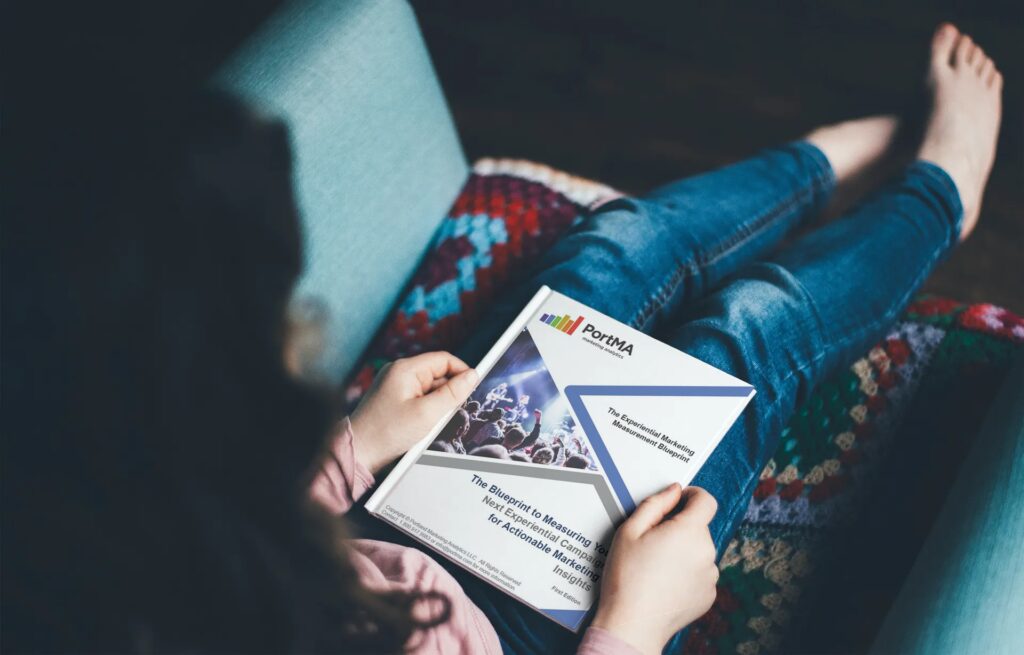 Additional Resources
FOR EXPERIENTIAL MARKETERS
Experiential Measurement Blueprint
Event Impression Calculator
Experiential ROI Benchmarking Reports
Event Measurement Video Tutorials
Click for Additional Resources