In Part Two of this blog, we will look at specific metrics that have worked for our team (and field staff) for a wide range of brands. Remember, the goal is to generate experiential data which you can learn from for future campaigns.
A critical aspect of this is getting the field staff to understand what metrics you are looking for and working together to achieve your desired results. The idea is to capture as much as possible while staying consistent in your collection efforts. If you missed Part One, you can find it here.
Estimated reading time: 4 minutes
Two Main Categories For Recap Reporting
The metrics you are looking for tend to fall into two categories:
Campaign metadata
Consumer feedback
Category one refers to the recap reports from your field staff that describe the campaign. Category two is comprised of actual consumer feedback: who were they? What was their history with the brand, and what were their future intentions? It's also important to register the circumstances under which customers gave that feedback.
Field Staff Campaign Data
For the remainder of this blog, we'll focus on one category at a time, the campaign data to measure, and what to ask your field staff to record. Again, by staying consistent in your measurement strategy (having field staff record the same type of data), these various categories will be easier to combine and properly analyze.
Campaign Year
Product Variants
Nature of Experiential Activity
Budget
Price Point
Annualized Customer Value
Number of Event Days
Attendance
Activation & Staffing Hours
On-Site Sales
Interactions / Engagements / Number of Samples
(You can listen to the full episode of the podcast below.)
Campaign Year
If you are just starting to record experiential data and recap reporting, this may seem strange, but record the year in which you collected the data. After a few years, this becomes very important. You will eventually want to analyze data over time.
Product Variants
In addition, it's worth cataloging the number of product variants in a campaign. Assuming you are promoting a wine brand, did you focus on one type, or did you promote different variants? This helps you understand whether you got a diverse view of the brand or a very targeted one.
Nature of Experiential Activity
Record the nature of the activity, such as whether you offered sampling or simply interacted with patrons. If you chose sampling, was it wet sampling on-site or dry sampling where customers take the sample home? Or, were you offering a product in the middle ground that warrants a demonstration such as a grill? Understanding the nature of the activity will affect throughput and time per interaction, among others.
Budget
Recording budget then lets you see how cost relates to the number of engagements for a certain type of activity. Also, keeping track of your budget is necessary for ultimately calculating your event ROI.
Price Point
The price point is crucial as you won't always be able to benchmark a product in the same category, but many purchase decisions are tied to the dollar amount the customer needs to spend. Thus, benchmarking products with similar price points allows you to draw meaningful conclusions.
Annualized Customer Value
Annualized customer value measure lets you compare the cost of engagement with the potential spending. This measure becomes part of determining your ROI.
Number of Event Days & Attendance
Next, it's time to look more closely at the campaign itself. How many event days did you need? What was the attendance? Gathering experiential data from festivals compared to in-store events will look very different. Your field staff will want to get an idea of how different events unfold.
Activation & Staffing Hours
One measure that's often underestimated is the comparison of staffing hours vs activation hours. Ten days with two hours of activation and one staff give you 20 customer-facing hours. Those numbers change dramatically if you add hours or staff.
On-Site Sales
On-site sales directly inform your ROI, so they are another important variable of experiential data to record. It creates an interesting dynamic around interactions and allows you to compare the number of interactions and sales.
Interactions / Engagements / Number of Samples
Lastly, breaking down interactions with customers versus engagement points and samples also matters. Perhaps your campaign contains up to three engagement points per customer interaction? If you are sampling different variants of one brand, most customers will receive more than one sample.
By collecting all this experiential data, you are building a valuable benchmarking database for future campaigns. The data allows you to offer meaningful recap reporting to your clients and build even better campaigns for them in the future. If you missed Part One, you can find it here.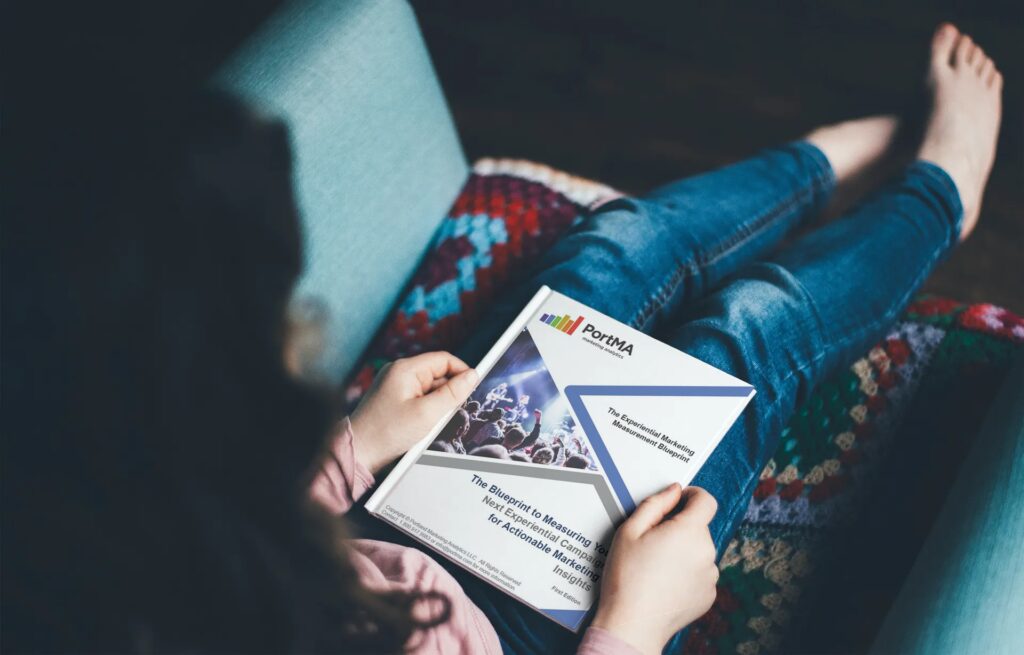 Additional Resources
FOR EXPERIENTIAL MARKETERS
Experiential Measurement Blueprint
Event Impression Calculator
Experiential ROI Benchmarking Reports
Event Measurement Video Tutorials
Click for Additional Resources