Reporting on event recaps is a storytelling process. You need to guide your reading audience through an experience that helps them relive the activation and understand the impact and value from the consumers' point of view. You're successful when the account team and brand manager understand how consumers think and feel during and after the campaign. Utilize this event recap template to transform your event marketing metrics into a compelling brand strategy for future marketing campaigns and ensure your event recap hits a home run.
Event Recap Framework
The Beginning – Reaching the Right Audience
Start your post-event report by stating the target audience, communication channels, and a brief audience description. You should also include basic event marketing metrics like markets activated, engagements per market, and samples per engagement. If hand-selling was used, note that as well. Calculate the average of this data by event, and then segment it by event type. This process will help you determine which strategies worked best to achieve the desired results.
Ideally, you've been looking at this data all along, and have been making tweaks to activate and utilize these best practices.
Event Highlights – Targeting Success
Take your reach reporting to the next level by showing how well you reached your target customer. If your goal was to target women aged 30 to 39, report on gender and average age to showcase how successfully you met these goals. Don't forget to monitor this throughout the process.
Engagement Recap Summary
Measuring Impact on Attitudes and Behavior
Now that we've established the foundation for the post-event report, let's discuss marketing impact. We start by looking at how people react to the brand, and then monitor their purchase and recommend intent. Quantifying recommend intent is an excellent method for measuring word-of-mouth behavior and gaining insights into the behavior of consumers who admired the marketing but didn't make a purchase in the product category. In a previous blog article, we provided an outline of how to measure the impact of event marketing.
The Return-on-Investment Model
Finally, close out the program recap by touching on return-on-investment (ROI). Event marketing ROI is often underreported, making it an exciting metric for the brand to review.
Segment the ROI based on targeted event marketing metrics, such as venue type and market, to illustrate the situations that produced the highest return. By monitoring these metrics throughout the 12+ weeks of activation, you'll be well-acquainted with the story long before it's time to draft the post-event report. Once again, it's essential to adopt best practices as you progress.
Conclusion
Any organization aiming to optimize their results should prioritize monitoring event marketing metrics. Tracking and analyzing data provide us with valuable insights, which we can use as a management tool to ensure success. Additionally, employing data-driven decision making enables us to pinpoint areas of strength and weakness, make informed adjustments to our strategies, and ultimately reach our goals.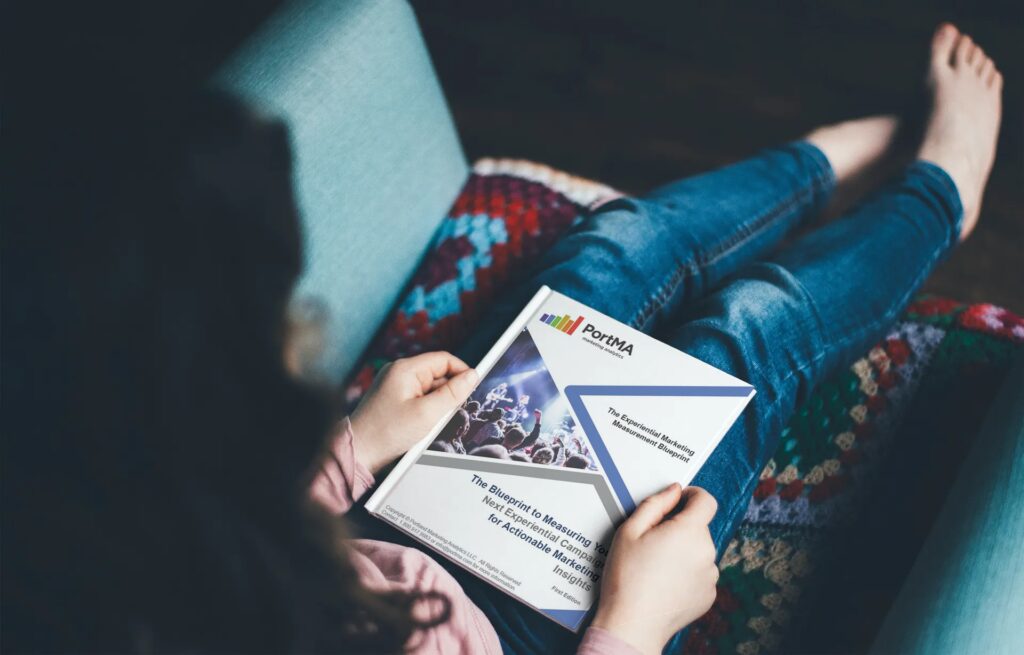 The Ultimate Event Recap Template
EXPERIENTIAL MEASUREMENT BLUEPRINT
Powered by PortMA™
The step-by-step data collection, analysis, and reporting methods used by PortMA to demonstrate the ROI of Experiential Marketing for dozens of agencies and over one hundred brand clients.